Jugun Ianfu was a comfort woman who accompanied the Japanese army during the war. During the Asia-Pacific War, they had to meet the sexual needs of Japanese soldiers in a rough, inhumane and extensive way. Jugun Ianfu actually understood the signs that they violated normal or oriental culture. However, the tricks, threats, and terror of the Japanese succeeded in subduing them, leaving them with no choice but to become Jugun Ianfu.
The Beginning of Jugun Ianfu's Existence

Ianjo or Jugun Ianfu's first official brothel was first established in 1932 in Shanghai. The establishment of the brothel was motivated by the outbreak of rape by Japanese soldiers during the Sino-Japanese War. Brutal rape led to the spread of venereal diseases among Japanese soldiers.
This of course weakened the strength of the Imperial Japanese Army. Hence the idea of ​​recruiting local women, checking their health and placing them in Japanese army brothels.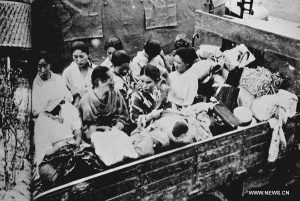 At the beginning of the army, the Japanese government hoped to prevent soldiers from contracting venereal diseases by providing them with proper entertainment, improving morale and performance.
To support this plan, brothels were built for soldiers on the front lines. In this ianjo jugun ianfu is placed to satisfy the desires of Japanese soldiers. The Jugun Ianfu system is well planned and organized.
In the early days of the Asia-Pacific War, the Japanese government recruited Jugun Ianfu in large numbers through the conventional method, that is, posting advertisements for prostitutes. These advertisements appeared in newspapers in Japan and Japanese colonies such as Korea, Manchukuo and mainland China.
The Daily Life of the Jugun Ianfu
As sex workers, health issues are a real threat to them. Therefore, soldiers are encouraged to use safety devices or condoms. Unfortunately, many of them use used condoms, and many don't even want to use them.
Army Finance and Logistics Command are responsible for providing condoms in brothels. They were responsible for delivering the condoms to the Japanese-occupied areas and making sure that the condoms were intact. For example, a total of 32.1 million condoms were shipped to units outside Japan in 1942.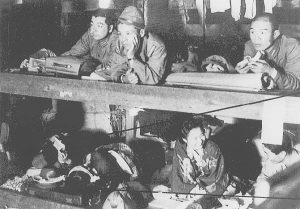 In Japanese military brothels, women's reproductive rights were severely neglected. While STDs are a bad thing for these women, there's something even worse, unintended pregnancies.
To prevent pregnancy, these women often take herbs from the plant to prevent pregnancy. If they are already pregnant, they are forced to abort their fetus using pills.
However, there are also brothels that allow Jugun Ianfu to have children under certain conditions, but then they have to serve soldiers. In addition to drugs, there is also a brothel that sterilizes Jugun Ianfu so that they can no longer menstruate.
As the Japanese military expanded, so did the Japanese military's demand for brothels, i.e. voluntary prostitution became insufficient. In remote areas where jobs are needed, high-paying jobs are attractive and can meet their needs.
However, when these tactics did not work well in recruiting Jugun Ianfu, direct recruiting was the way out. Direct recruitment is recruitment carried out directly by the police or local authorities and usually uses violence against recruited women.
They went to the houses of the people and then kidnapped their daughter to become Jugun Ianfu. Eventually, women were conditioned to become sex slaves under the highly binding General National Mobilization Act.
Being a forced prostitute is a pain all day long. In the beginning, Japan has always been able to meet the needs of jugun ianfu. They get nutritious food, medicine and toiletries. However, after 1843, jugun ianfu found it difficult to obtain food and other supplies.
When it comes to Jugun Ianfu entertainment, the brothel management does not provide any special facilities, with the exception of Telawang in the form of tickets to watch the show. There is also a restaurant near the brothel where sometimes Jugun Ianfu is invited by his guests to eat and drink in the restaurant.
One of the most interesting practices of Japanese brothels is the system of renaming from local names to Japanese names. All Japanese recruits will immediately be given a Japanese name and will have to use it.
Jugun Ianfu did not know exactly why this name change took place. They themselves did not dare to question the name change. However, they suspect that the replacement is intended to give some satisfaction effect to Japanese who enter the brothel as they may call prostitutes in Japanese.
Jugun Ianfu in the Dutch East Indies (Indonesia)
In Indonesia, the practice of jugun ianfu began with the arrival of Japanese troops. Ianjo-Ianjo was established in important cities in Java such as Batavia, Bandung, Ambalawa, Montilan and Semarang. Not only were local women used as Jugun Ianfu, Dutch women were not immune to the recruitment process.
Women who refused to serve the lust of the Japanese army were threatened with torture and their families would be killed. On the first night, they were regularly beaten, kicked and raped. Some of the women were raped by army leaders and several brothel managers. One of the doctors who regularly examined the women also raped them.
According to eyewitnesses, a woman took high doses of quinine in an unsuccessful attempt to kill herself. She was then sent to a mental hospital. Another woman also attempted suicide by severing a blood vessel, to no avail. Several women tried to escape the brothel but were quickly caught back. A girl has been in a coma for two days after being raped. Some people get pregnant and have abortions.
Forced prostitution was added to a long list of violent acts during the Japanese occupation. The inhumane treatment they received caused huge trauma at the time. Not only that, but half a century later, they must also carry a psychological legacy.
BIBLIOGRAPHY
Hicks, George. The Comfort Women: Japan's Brutal Regime of Enforced Prostitution in the Second World War. New York: . W. Norton & Company, 1997.
Juliantoro, Dadang dan A. Budi Hartono. Derita paksa perempuan: kisah Jugun Ianfu pada masa pendudukan Jepang, 1942-1945. Jakarta: Sinar Harapan, 1997.
Tanaka, Yuki. Japan's Comfort Women Sexual slavery and Prostitution during World War II and the US Occupation. London: Routledge, 2002.