Discussions of gender equality remain a taboo and sensitive issue in the Muslim-majority country. This situation is inseparable from the strong patriarchal culture that has long been rooted in these regions.
As a result, oppression and violence in the name of gender are prevalent in these regions. Of course, this situation contradicts Islamic teachings that uphold equality and humanity (Badran, 2001: 50; Hashim, 1999: 9).
In this context, several Muslim feminist figures have emerged who have fought against oppressive currents in the name of gender, including Shirin Ebadi.
As a woman born and raised in a patriarchal culture, Ebadi truly understands the bitterness of life as a woman. Discrimination and violence in the name of gender are no strangers to her. As an educated woman, she tried to combat the situation. Despite repeated threats from the Islamic government of Iran, she continued to fight for the defense of humanity.
Family's background
Shirin Ebadi was born on June 21, 1947 in Hamadan Province, Iran, 180 miles from Tehran. She was born into a well-educated middle-class family with a model of thought that was fairly modern at the time. Ebadi's father, Mohammad Ali Khan, was a lawyer who held several important government positions during his lifetime.
However, Ebadi's mother, Minu, suffers from severe mental illness, so she is prone to anxiety and sometimes physical ailments such as asthma. "I don't remember a day when my mother looked really happy," Ebadi said of her mother's condition at the time. Still, Ebadi's mother continued to focus on raising her children. For Minu, being a good mother is a woman's most important task.
Ebadi is lucky to have a father who treats his daughter like his son (Hubbard-Brown, 2007: 18). She grew up in a democratic family. Her father has always fought for his child's independence, and he has always supported her child's decisions from kindergarten to adulthood. Despite this, the Ebadi family continues to practice the Five Pillars of Islam in their daily lives.
When it comes to education, Ebadi was fortunate to have grown up in a time when openness and access to education was still easy for women. The ruler of Iran at the time, Mohammad Reza Pahlavi, dreamed that Iran would become a modern country like the Western countries. In return, he gave women more shares to be able to appear in public.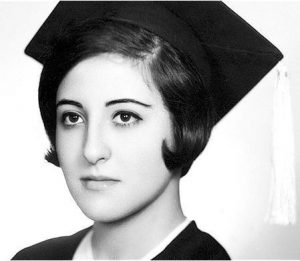 The Shahs, while symbolically creating opportunities for women, clings to a deeply entrenched patriarchal culture.
In an interview with journalist Oriana Fallaci in 1976, Mohammad Reza Shah said: "I only respect women as long as they are beautiful, feminine and smart enough. They (women) are equal before the law, but unfortunately not in terms of ability. You are not doing anything great, nothing!" (Hubbard-Brown, 2007:18).
The statement showed that Iran's dream of modernization was wrong at the time, because it was inseparable from the patriarchal culture engulfed in it.
Become the first female judge
Growing up in an academic family was a blessing in itself for Ebadi, as most women in Iran at the time were mostly housewives, but Ebadi's parents placed great emphasis on their children's education. She attended two secondary schools, Anoshiravn Dadgar and Reza Shah Kabir School, from which she graduated in 1965.
After graduating from high school, Ebadi entered the Law School of the University of Tehran at the age of 18. From the moment she entered college, her goal was to become a judge.
At the same time, the impact of Westernization and industrialization on Iran increased due to the policies of the White Revolution of 1963 (Ahmad, 2004: 260). High-rises are being built, factories are being built everywhere, and Western magazines are easy to find on the roadside.
In college, Ebadi discovered new things she had never discovered before. Starting from the style of dress to the association. But what attracted him most was researching conflict issues and participating in demonstrations. Although their movements are always monitored by SAVAK (Iranian Secret Police).
Ebadi graduated from law school in 1969. She became one of the top two students in the class. After graduation, Ebadi interned at the Justice Department for two years before actually becoming a judge in March 1970, at the age of 23. Not only did she become a successful judge, she was the first woman to preside over a courtroom. In 1971, she obtained a doctorate in private law with honors from the University of Tehran.
While her career was thriving, her life as an intellectual woman proved to be keeping many men away from her. Men who used to live in a patriarchal culture were afraid that women would have higher education and careers than them. Ebadi, on the other hand, did not want to fall into a patriarchal culture that requires women to obey men.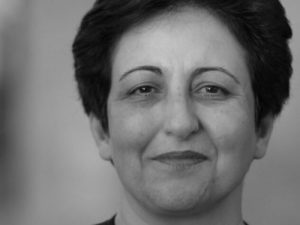 Finally, in 1975, Ebadi met an electrical engineer named Javad Tavassolian. Her husband comes from a socially conservative background but is very flexible and tolerant. From the beginning of her marriage, her husband allowed Ebadi to remain an independent woman and continued to support her career as a judge (Ebadi, 2007:24).
Shirin Ebadi and the Iranian Revolution
While Ebadi's education and career went smoothly, her career as a judge didn't last long as Iran changed. The rapid modernization that is taking place in Iran displeases the ulama, who see their influence in traditional markets and villages eroding. Combined with the existence of television, which can be enjoyed by different groups, social inequality and the decline of indigenous culture in the public eye is evident.
The Iranian revolution of 1979 brought new hope but actually deteriorated the status of women and law enforcement. Ayatollah Khomeini issued a policy of requiring women to go home (domestication), restricting women's political rights and requiring them to wear the veil again. This policy is like stepping back in time a thousand years ago.
Ebadi was one of the victims of this policy, and the Khomaeni clergy banned women from becoming judges, so Ebadi and other women judges were removed from office and given new duties as clerks in the courts they once headed.
This policy shows that the tide of patriarchy in Iran is strengthening. Fatimah Mernissi explained in her book The Veil and the Male Elite (1991:ix): "If women's rights are an issue for modern Muslim men, it is not because of the Qur'an, the Prophet or Islamic tradition, but because of these Male Conflict of Interest".
Ebadi and her colleagues protested, and the Iranian government later promoted a former judge to the role of a Justice Ministry expert. However, Ebadi insisted that the injustice should not be accepted and decided to apply for early retirement.
Iranian laws were truly put on hold and replaced by classic Islamic-era laws fraught with prejudice against women (Ebadi: 2016). To defend women's rights, Ebadi also applied to practice as a lawyer. However, the request was not granted until 1992. While awaiting approval, Ebadi used his time to write several books and articles, which were published in Iranian journals.
After Ebadi was legally licensed, she became known for handling cases pro bono. Some of the most important cases she worked on were opposition government politicians Darius and Parwane Furuhar and a student, Ezzat Ebrahiminejad, in university dormitories Serial killings killed in attacks. In addition to two major cases, Ebadi has been involved in several news and social cases involving women and children.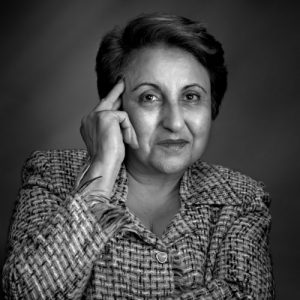 In 2000, his work as a volunteer lawyer even landed him in prison for three weeks. She is accused of disseminating evidence of state involvement in attacks on student accommodation the previous year (Ebadi, 2016).
In addition to her busy life as a lawyer, Ebadi founded two NGOs, the Society for the Protection of Children's Rights (SPRC) (1994) and the Human Rights Defenders Centre (DHRC) in 2001 (Ebadi, 2016). organization, she fought for humanity in Iran.
Of course, her work as a humanitarian activist carries many risks. She received frequent death threats, and even while defending the Foruhar family's case, she came across a secret government document related to the order to kill Ebadi.
Nobel Peace Prize
It is undeniable that there are quite sharp differences between Shirin Ebadi and the Islamic government of Iran. Ibadi is known for his pacifist, pluralistic and tolerant views of Islam. She said her interpretation was pacifist because she believed Islam was a religion of peace and that Islamic values ​​were consistent with universal human rights values.
Her views on Islam are diverse as she believes Islam respects different religions and teaches gender equality, social justice and democratic living. Ebadi believes that Islam teaches respect for life, liberty, justice, social justice, gender equality and human dignity.
She has always believed that religion will never bind women, but that the interpretation of patriarchal culture is bound to Muslim women. Of course, this view contradicts the Khomeini regime, which wants to apply absolute Islamic law in the life of the country.
At the same time, Ebadi expressed her nationalism towards Iran and his critical views of the West. According to her, there is too much Western interference in Iran's internal affairs. "The human rights struggle in Iran is initiated by the Iranian people, and we oppose foreign interference in Iran," she said.
On October 10, 2003, Ebadi was awarded the Nobel Peace Prize for her work fighting for democracy and human rights, especially the rights of women and children. Organisers of the event praised her as "a brave woman who never cared about her own security threats".
Ebadi's award certainly shocked the world as she managed to win over another candidate, Pope Paul John II (Middle_east/3181428.stm). This success made Shirin Ebadi the first Muslim woman to win the Nobel Prize.
In Iran, officials from the Islamic Republic of Iran were speechless about the Ebadi award. Instead of praise, activists criticized Ebadi for not wearing a hijab at the awards ceremony (Haeri, http://www.iran-press-service.com/articles_2003/Dec-200/khatami_interview_121203.html, accessed March 11, 2020 ). Not only did the officials remain silent, the Iranian media did not make the headlines of the award, they just pinned the news in a small column at the bottom of the paper.
Despite being held in contempt by Iranian officials, it appears to have had no bearing on Ebadi. She continued her career as a lawyer and humanitarian activist, occasionally teaching at the university.
Bibliography
Badran, Margot. "Understanding Islam, Islamism, and Islamic Feminism." Journal of Women's History, vol. 13 no. 1, 2001.
Ebadi, Shirin. Until We are Free: My Fight for Human Rights in Iran. New York: Random House, 2016.
Haeri, Safa. "Iranian Muslim Women are Free To Wear or Not the Hejab". http://www.iran-press-service.com/articles_2003/Dec-2003/khatami_interview_121203.html, Desember 2003, accessed 11 Maret 2020.
Hashim, Iman. "Reconciling Islam and Feminism". Gender & Development, 7:1, 7-14, 1999.
Hubbard-Brown, Janet. Shirin Ebadi: Champion for Human Rights in Iran. New York: Chelsea House, 2007.
Mernissi, Fatima. The Veil and the Male Elite : a Feminist Interpretation of Women's rights in Islam. New York: Perseus Book Publishing, 1991.
Nobel winner's plea to Iran, http://news.bbc.co.uk/2/hi/middle_east/3181428.stm.